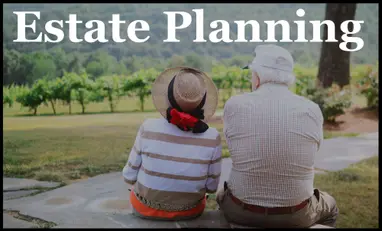 Experienced Wisconsin Estate Planning Law Attorneys
Sczygelski Law Firm is known for drafting professional Wills for less than $90. Our firm also charges less than the customary rate for probate. We believe that a high probate rate is an unnecessary burden for families. Our firm has a lot of experience in this area and we know how to create a Will to fit your individual needs. Our firm has drafted and maintained thousands of wills for members of the Manitowoc community since 1999.
Listen to Ralph Sczygelski discuss Probate in our August 11th and January 26th podcasts, or Estate Planning in our December series. Click here to see more of our legal discussion podcasts.
8/11/20 - Probate


1/26/21 - Probate


12/1/20 - Estate Planning Part 1


12/8/20 - Estate Planning Part 2

Helping seniors with their legal needs

As you grow older, your interests and goals change. You need an experienced elder law attorney who understands how to address the singular challenges exclusive to seniors. At Sczygelski Law Firm in Manitowoc, the attorneys assist seniors with their unique legal issues, including:
Wills and trusts
Tax issues
Social Security benefits
Medicare and Medicaid coverage
Nursing home and assisted living care
In-home medical care
Powers of attorney
Medical directives and living wills
Elder abuse
Age discrimination
Wisconsin lawyers dedicated to seniors' healthcare
Access to good medical care is essential to your health and quality of life. The firm's attorneys assist you in maneuvering through the red tape of Medicare, Medicaid and private insurance companies so you receive the medical treatments, diagnostic tests and medications available to you. They can help you plan your future medical care and make crucial legal end-of-life decisions. The attorneys at Sczygelski Law Firm can draft legally valid medical documents that ensure your intentions are honored if you become unable to make those decisions for yourself.
Skilled lawyers assisting seniors with estate planning
The firm's experienced attorneys can advise you on the most successful ways to achieve your estate planning goals. Through meticulous analysis, they guide you on how best to transfer your assets, minimize estate taxes, establish guardianship for minor children, support personal philanthropic causes and even protect a beloved pet. They can draft a will that reflects your desires and establish living trusts and other legal entities beneficial to your estate.
Maintain financial independence with guidance from knowledgeable lawyers
Retirement gives you the opportunity to enjoy family and hobbies, but if not well-planned, living on a fixed income can create financial stress. The firm's attorneys can help you organize your affairs and plan for your retirement. If you choose to continue working, we are prepared to protect your rights in the workplace.
Elder law attorneys available to help you
Call Sczygelski Law Firm at (920)-682-9990 or contact the firm online to schedule a free consultation at their Manitowoc office.
Similar Pages: Contract Law l Family Law